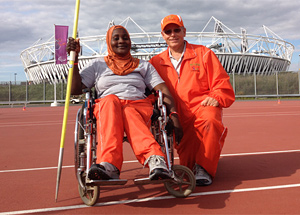 Kadija and Dr. Sorrells at the warm-up track adjacent to the Olympic Stadium. Dr. Sorrells is helping her and her coach with her technique for throwing the javelin.
Kadija, the first female athlete from Niger, is a 34 year old woman with four kids. She had just weaned her last child the day she left for London. Kadija has polio and no muscular movement below the hips.
As the Niger sports medicine coordinator, Dr. Fred Sorrells had to take Kadija to the doctor in the Paralympic Village when she arrived due to chest discomfort.