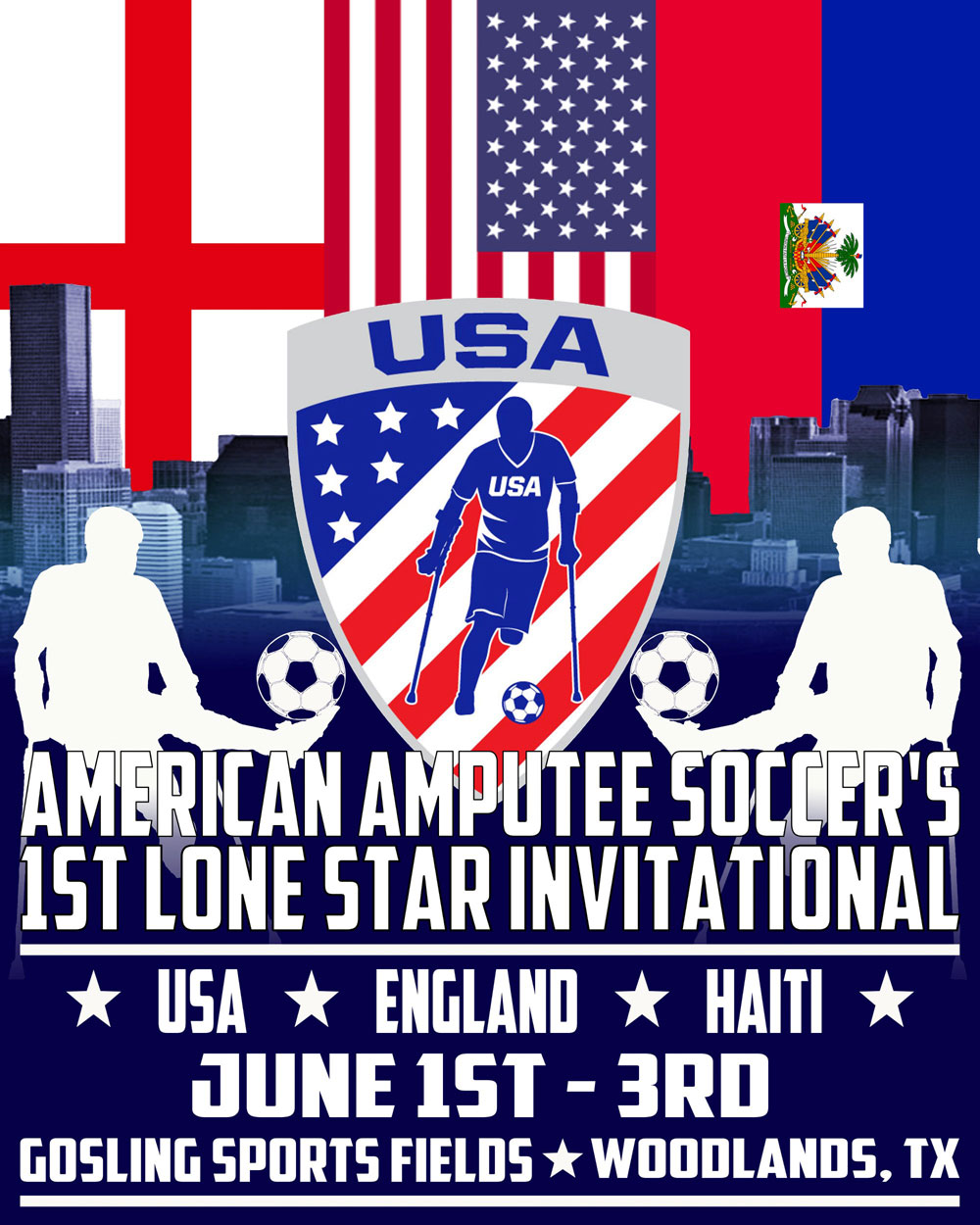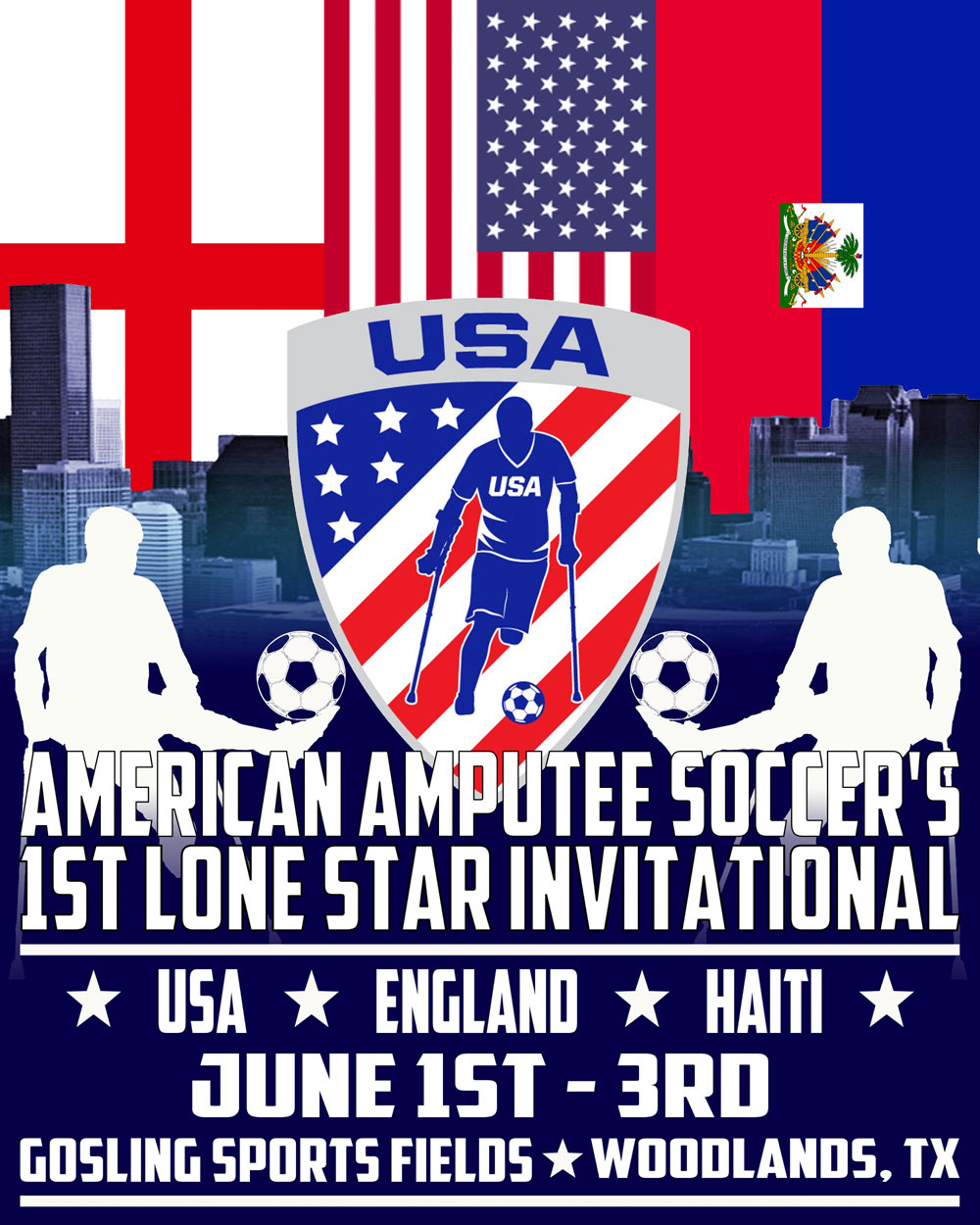 National amputee soccer teams from England, Haiti, and the USA will meet for an amputee soccer tournament June 1 – 3 in The Woodlands, Texas.
The tournament is part of each team's run-up to the Amputee Soccer World Cup scheduled for 24 October to 5 November, 2018 in for in Guadalajara, Mexico.
Each team will play four matches in the round-robin tournament, fielding a mixture of seasoned veterans and developing talent.
Haiti and Team USA met several times over the past year while Team England is coming off a first place finish in a recent tournament with Ireland and Poland.
The tournament is being presented by the American Amputee Soccer Association, the Lone Star Amputee Football Club, and the Houston Dynamo-Dash Training Academy.
All matches will be held at the Gosling Sports Fields at 4055 Marsico Place Woodlands TX 77384. All are invited. Admission is free. The match schedule is:
<div class="tg-wrap"><table><!-- [et_pb_line_break_holder] --> <tr><!-- [et_pb_line_break_holder] --> <th>Day</th><!-- [et_pb_line_break_holder] --> <th>Time</th><!-- [et_pb_line_break_holder] --> <th>Home</th><!-- [et_pb_line_break_holder] --> <th>Away</th><!-- [et_pb_line_break_holder] --> </tr><!-- [et_pb_line_break_holder] --> <tr><!-- [et_pb_line_break_holder] --> <td>Friday, June 1</td><!-- [et_pb_line_break_holder] --> <td>5:30PM</td><!-- [et_pb_line_break_holder] --> <td>Opening Ceremony</td><!-- [et_pb_line_break_holder] --> <td></td><!-- [et_pb_line_break_holder] --> </tr><!-- [et_pb_line_break_holder] --> <tr><!-- [et_pb_line_break_holder] --> <td>Friday, June 1</td><!-- [et_pb_line_break_holder] --> <td>6:00PM</td><!-- [et_pb_line_break_holder] --> <td>USA</td><!-- [et_pb_line_break_holder] --> <td>Haiti</td><!-- [et_pb_line_break_holder] --> </tr><!-- [et_pb_line_break_holder] --> <tr><!-- [et_pb_line_break_holder] --> <td>Friday, June 1</td><!-- [et_pb_line_break_holder] --> <td>8:30PM</td><!-- [et_pb_line_break_holder] --> <td>Haiti</td><!-- [et_pb_line_break_holder] --> <td>England</td><!-- [et_pb_line_break_holder] --> </tr><!-- [et_pb_line_break_holder] --> <tr><!-- [et_pb_line_break_holder] --> <td>Saturday, June 2</td><!-- [et_pb_line_break_holder] --> <td>10:00AM</td><!-- [et_pb_line_break_holder] --> <td>USA</td><!-- [et_pb_line_break_holder] --> <td>England</td><!-- [et_pb_line_break_holder] --> </tr><!-- [et_pb_line_break_holder] --> <tr><!-- [et_pb_line_break_holder] --> <td>Saturday, June 2</td><!-- [et_pb_line_break_holder] --> <td>6:00AM</td><!-- [et_pb_line_break_holder] --> <td>Haiti</td><!-- [et_pb_line_break_holder] --> <td>USA</td><!-- [et_pb_line_break_holder] --> </tr><!-- [et_pb_line_break_holder] --> <tr><!-- [et_pb_line_break_holder] --> <td>Saturday, June 2</td><!-- [et_pb_line_break_holder] --> <td>8:30AM</td><!-- [et_pb_line_break_holder] --> <td>England</td><!-- [et_pb_line_break_holder] --> <td>Haiti</td><!-- [et_pb_line_break_holder] --> </tr><!-- [et_pb_line_break_holder] --> <tr><!-- [et_pb_line_break_holder] --> <td>Sunday, June 3</td><!-- [et_pb_line_break_holder] --> <td>9:00AM</td><!-- [et_pb_line_break_holder] --> <td>USA</td><!-- [et_pb_line_break_holder] --> <td>England</td><!-- [et_pb_line_break_holder] --> </tr><!-- [et_pb_line_break_holder] --> <tr><!-- [et_pb_line_break_holder] --> <td>Sunday, June 3</td><!-- [et_pb_line_break_holder] --> <td>11:30AM</td><!-- [et_pb_line_break_holder] --> <td>Closing Ceremony</td><!-- [et_pb_line_break_holder] --> <td></td><!-- [et_pb_line_break_holder] --> </tr><!-- [et_pb_line_break_holder] --></table></div>