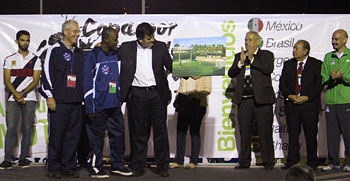 While the Haiti amputee football team did not make it to the trophy presentation stage by the soccer ball, they did via the paint brush!
As a token of appreciation to the Mexico Cup of the Americas Organizing Committee and its principal sponsor Proan, Haitian amputee player and artist Francillon Chery presented a painting of the soccer practice venue to Proan founder Manuel Romo.
Dr. Fred Sorrells, manager of the Haitian team joined those on stage in applauding the art presentation. The Haitian team made a lasting impression on the host city by demonstrating their amputee skills for school groups and sharing their inspiration stories with local residents with disabilities. Well done, Team Haiti!