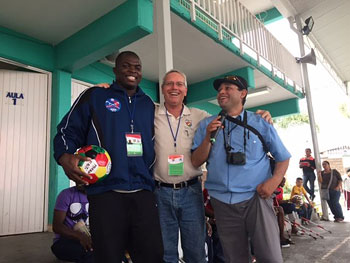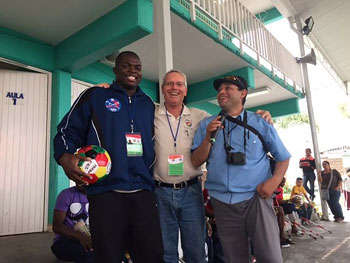 Emmanuel Ladouceur, Dr. Fred Sorrells and Professor Mora
The Haiti national amputee football team came to Mexico with the dual purpose of competing in the Cup of the Americas tournament and championing the impaired in schools and local communities. Team members have shared their stories of overcoming loss of limbs from the 2010 earthquake, police violence, mudslides and vehicle accidents. Their public service has been applauded by the Organizing Committee, school officials and thousands of interested students.
Professor Mora translated into Spanish as Dr. Fred Sorrells shared the incredible story of Haitian goalkeeper Emmanuel Ladouceur's earthquake survival with hundreds of students today. Ladouceur was buried under rubble for four days before being rescued. These stories of faith and perseverance are having an enormous impact upon the way people with disabilities are perceived here.
Following the presentation of the player stories in school assembles, students intensely pursue the team members for autographs on paper, balls, articles of clothing, and even their arms. The amputees are certainly enjoying their new found "rock star" status. Since Haiti received a bye in today's scheduled match, the team was able to visit another school in the afternoon.